Secluded Oceanfront Hideaway
Dragon's Lodge, a beautiful 5 acre ocean front property on Gabriola Island is yours to enjoy for an intimate wedding, family reunion, corporate retreat,
or just an island getaway. While hosting your event in the spacious 6500 sq. ft. lodge your guests can choose one of the 11 ocean and forest view rooms or 11 cedar sleeping cabins nestled in the surrounding forest.
Entry & Great Room
The great room is a large gathering room featuring an artist built floor to ceiling fireplace to enjoy on those cool evenings. There are 2 large dining tables that can be situated as a head table or for group meetings. The room includes intimate seating areas for easy conversation and spectacular ocean views.
Kitchen
The large country kitchen can accommodate all the cooks in your group plus those who just want to be in the kitchen and watch the action. It's equipped with 2 stoves, microwave, refrigerator, full freezer, dishwasher, ice machine, and commercial cooler.
From the kitchen there is quick access through garden doors to the large deck and 2 propane plumbed barbeques. The deck has outdoor seating and tables to enjoy open-air meals with friends and family.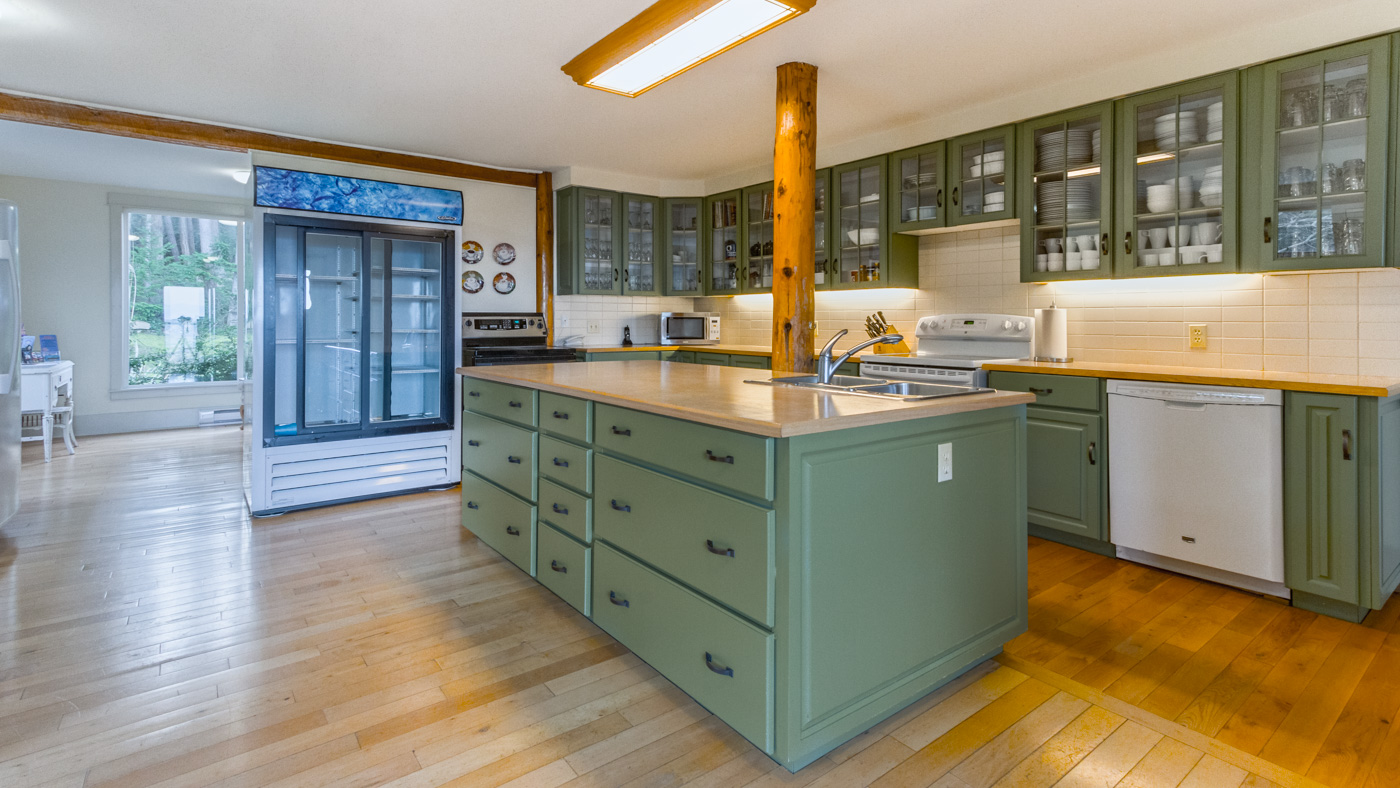 Guest Rooms
The second floor of the lodge features 11 ocean and forest view bedrooms that can sleep 25.
Eight bedrooms have a queen bed and ensuite bath, two bedrooms have a double bed and share a bath, one bedroom has 2 queen beds, 1 single bed and an ensuite bath. Both floors offer laundry facilities for the guests use.
Cabins & Grounds
This gorgeous property boasts 1,600 magnificent feet of oceanfront, featuring craggy cliffs, water access, and 5 acres of beautiful quiet forest. Tucked in the forest, for the more adventurous guests are 11 cedar sleeping cabins.
These quaint little cabins are likened to wooden tents with windows and a front porch. Each cabin has 2 canvas camp cots and mosquito nets.
Please remember to bring your own bedding for this fun camping experience!
You're welcome to beachcomb and take pleasure in the outdoors at Dragon's Lodge, but please respect the delicate plant life and stay on the paths.
D

ragon's Lodge … a checkered past

For many years, the forest companies and the first settlers owned most of Gabriola Island.  In the early 1950s, the original hotel, now Dragon's Lodge, was built on a rocky bluff above Peterson Bay … on an island with no electricity … and on about 100 acres of heavily treed land.

When you look at the exterior of the building, it has been constructed with vertically placed logs – a rarely found method of log-building construction – usually logs are placed horizontally.

The lodge has gone through several incarnations, and you may hear islanders speak of the Grande Hotel – to be pronounced Grandee – as insisted by an early owner to give it a continental flavour.  Along with the Lodge's name changes, the original acres of land were subdivided on a number of occasions until Dragon's Lodge now sits snugly at the end of Dragon's Lane, its own access road, surrounded by 5 acres of forest.  The present name, Dragon's Lodge, probably refers to the rock formation along the bluff.

You might also hear a number of historical tales that have endured through the years.  These include stories the hotel was used as: one of the first local drinking hangouts, a hide out for a couple of fleeing bank robbers, more than one different movie set, and even a possible nudist camp, … there are probably more if you listen in to the coffee shop conversations of the old timers.

Today, although you still see the original vertical logs outside, you will find a fully renovated and modern interior, which offers elegant and spacious rooms for all your special event requirements.  Whether you are planning a wedding, a family reunion or holiday, a corporate event or retreat, or any kind of group event or gathering, Dragon's Lodge is your best choice.
Testimonials
Amanda & Pat
Having enjoyed several special events at the Dragon's Lodge, I can certainly attest to this lovely venue's spectacular location and it's versatility.  This oceanfront property lends itself very well to functions of varioius sizes, but is extremely well-suited to mid-sized, intimate gatherings.  The lodge itself is warm and inviting, the deck is large and provides additional room for guests to mingle, and the grounds, including the cliffs overlooking the ocean, offer amazing and ever-changing views – a property not to miss!
Amanda & Pat's Photos
Hilary Peach
Artistic Director, Poetry Gabriola Society
On behalf of the board of directors and myself I would like to thank you all so much for allowing Poetry Gabriola to hold our 7th Annual PG Festival at the Dragon's Lodge. The venue was outstanding and was the perfect fit for what we are doing. The audience, artists, volunteers, board, press – everyone was talking about how fabulous the lodge was and how perfect it was for the festival!

We had a very successful weekend, selling out nearly every event and exceeding our ticket sales and revenue expectations by approximately 20%. This allows us to enter 2011 with a reserve of cash that means we can think about having a festival in 2011, even though our provincial funding was cut by $20,000 (through the elimination of the Direct Access gaming program by the gov't of B.C.).

We feel extremely lucky to have had the community support that we received – both through sponsorships and enthusiasm over the event. The venue was definitely a big part of the magic!

I have been forwarding links to Victor Anthony's slideshow as it evolves. The latest version is here if you haven't seen it yet.

Thanks especially to Sharon, who was a tremendous help as we tried to figure out how to fit in to a new place, and also for permission to come in on the afternoon before opening night so we could complete our tech set-up.
Brian & Sarah
Our experience with Dragon's Lodge was nothing short of perfection, from beginning to end. We found the Dragon's Lodge staff to be relentlessly accommodating in all of our requests to drop by in advance for visits and for supplying all of the information that we required.

We rented the lodge for four days to host our guests at our Gabriola wedding. We used every cabin and every room to accommodate our guests from all across the globe. Having everyone together in such an idyllic, relaxed atmosphere for those few days was pure bliss. We received comments throughout the weekend regarding the incredible location and the many amenities. Our guests were so impressed that this became a regular topic of conversation.

If I were to stretch my mind to think of one negative aspect of our experience, it would be how hard it was to drive away from the Dragon's Lodge once the event was over. Fortunately, the memory of those four days will be with us forever.

I think one moment will always have a special significance for us: the warm, calm, and quiet evening after the ceremony when we gave our speeches on the patio with the backdrop of the Salish Sea and the coastal mountains behind us. You couldn't ask for better wedding photos than these.

Dragon's Lodge provides a luxurious accommodation for any event that would simply be impossible to find anywhere else. The combination of the historic building, the variety of different sleeping options that are available, and one of the most attractive spots on Gabriola Island, let alone the west coast, are simply unparalleled. We can only hope to have the pleasure of hosting another event there in the future.
Brian & Sarah's Photos
Shannon & Tim
We had an amazing wedding weekend at Dragon's Lodge! The setting is spectacular and the lodge was the perfect venue for our ceremony and reception dinner. It was so much fun to have our family and friends stay right on the property.

Everyone had such a great time!
Shannon & Tim's Photos
Frequently Asked Questions
Rates
May 1 – Sep 30
4 night minimum: $12,000 plus tax
Each additional night: $3,000 plus tax
Reservation/security deposit: $2000
*Tax 5% GST
Oct 1 – Apr 30
2 night minimum: $6,000 plus tax
Each additional night: $3,000 plus tax
Reservation/security deposit: $2000
*Tax 5% GST
Policies
Check in time 2:00 pm/ Check out time is 12:00 pm (noon).
A 120 day notice is required for cancellation. Details are outlined in rental agreement.
Smoking is allowed outside only.
Sorry, we are unable to welcome your pets.
The water at the Lodge is potable
Event Planning 
Guests are welcome to choose any vendor to assist with their event, however, the following list of businesses have provided services for events held at Dragon's Lodge.
Explore Gabriola
Year round at Gabriola Island, you will experience a mild climate.  After your 20- minute ferry ride from Nanaimo, or your brief flight from Vancouver, you will quickly sink into the bliss of Gabriola's warm summer, or enjoy the gentle weather that blesses this area day after day in each of the seasons.
Like the 4,500 locals, you will be able to decide between active or calm activities  – or not much activity at all – if that's what you choose.
You can experience the variety of sandy, pebbly, or rocky beaches to play, swim, and beach comb, and you might even catch the annual Sand Sculpture competition at Gabriola Sands Provincial Park.  Your children will love to romp and splash on the safe, expansive beach at Sandwell Provincial Park; it is ideal for your little ones.
If you prefer, there are shady trails to walk, wander, and quietly enjoy the wonders of nature.  Or perhaps you would prefer to ride your bicycle or drive your vehicle out along the gently rolling roads to explore the rest of the island.
Gabriola's many parks vary – from the protected area of old-growth forest in the 707-acre wood right at the heart of the island, to those that  lead right down to the waterfront where you can watch the many sea creatures in their natural habitat.  Drumbeg Park is a favourite swimming spot enjoyed by many locals, while also *preserving a Garry oak ecosystem.
For those who enjoy water sports, the coast around Gabriola contains many good fishing areas for the fishermen and women in your group and, with luck, the locals might just tell you about the deep trench that makes the waters off Dragon's Lodge a prime spot for your favourite catch.
Wherever you go around Gabriola Island, the views are stunning and, if you drive or cycle on the North Road-South Road loop, you will see the mountains of the mainland across the water.   You don't want to miss Entrance Island Lighthouse, and on most evenings, you can see the lights of Vancouver and Gibson's Landing twinkling in the distance.  Try getting up early to watch the sunrise, or waiting until later for the sunset – and make sure to take your camera – it can be
spectacular.
To satisfy the curiosity of the explorers in your group, they can investigate the nooks and crannies of Gabriola Island from the old brick quarry to the ancient and intriguing petroglyphs and shell burial middens – thought to be thousands of years old.  Then you can visit the museums and galleries to look at pictures and artifacts from those long-ago times.
Another unique natural formation, accessible from Gabriola Sands at low tide, is the Malaspina Galleries, a sculpted, cave-like, sandstone feature.  The Galleries measure approximately 90 metres (300 feet) long by 3.5 metres (11 feet) high and are a glorious example of nature's art.
Gabriola, this Isle of the Arts, is home to many diverse and talented artists, who produce functional and decorative pottery, wearable art, glass sculpting and mosaics, silver jewellery, acrylics, watercolours, woodcarving, metalwork and much more.   You will have a hard time choosing what to purchase from your favourite artist to take home with you.
If you are on Gabriola Island in October, try the Thanksgiving Gallery Tour.  Many island studios are open to the public and, if you are dedicated and have lots of energy, you can visit the more than 80 artists in one weekend.   There are always some gallant folks who try to do the whole tour.
Whatever your reason to visit – a wedding, a family reunion or holiday, a corporate event, or any kind of group gathering,  it won't take you long on Gabriola Island to discover that the endless beauties and wonders of nature will rejuvenate your soul and send you home relaxed and re-energized.
F

or History Fans

The earliest known archaeological record on Gabriola is a cave burial dated to about 1500 BC; other locations in this part of British Columbia date as far back as 3000 BC.  You can visit Gabriola's famous petroglyphs, which are carved in the sandstone at the south end of the island.

Though Aboriginal settlers have inhabited the area since that time, the first recorded visit to the Island was by Spanish explorers in 1791.  About 60 years later, the first settlers arrived from Europe, and you can find graves in the cemetery dating back to the 1800s.

With the arrival of the immigrants, the population of Gabriola began to grow, and the first wooden school house (for 15 students) opened in 1872.  Regular mail service did not begin for another 12 years, though the early settlers received occasional mail when visitors sailed over to the island from Nanaimo by boat or canoe.  In 1884, the government agreed to provide mail delivery, and the first official Post Master was appointed 6 years later.

The production of clay bricks was an early major industry on Gabriola and, at its height, the brickyard produced 75,000 to 80,000 bricks a day, which were shipped over to Vancouver and Victoria.  This business is said to have been operating during the 1890s, but the first company that incorporated was in 1911 and it continued to produce millions of bricks a year until 1952.

Many of Gabriola's homes integrate these attractive old bricks into their fireplaces and patios, and if you know where to look, you might discover some traces of what was once the busy clay quarry and brick factory.  As you explore the beach at the bottom of Brickyard Hill, you will still find lots of brick fragments scattered amongst its pebbles.

These days, Gabriola Island, popularly known as the "Isle of the Arts", is home to about 4,500 people – a good mix of old and young, artists and entrepreneurs, retired folks and those who commute daily to work in Nanaimo and Vancouver.
---
For more great Gabriola information, visit the website of the Chamber of Commerce.